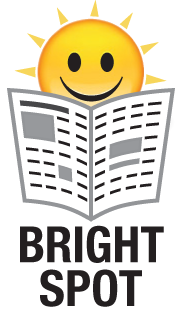 Larisa Bondy appreciates Councilmember Jill Lipoti for all the hard work she has done on the council despite the adversity she has been facing.

The Invasive Species Committee appreciates Steve Taylor, Eitan Grunwald, Alex Pendjurin, Ben Johnson, Bill & Kim Felong, Jill Lipoti, and Stacey Bonna for planting the butterfly garden (571 and Spruce).

Sharyn and Kevin Walz appreciate everyone who helped look for their missing cat, Ginger. They are especially grateful to Maryann Skiba, who spent many hours trying to find her. Ginger had been hiding in a groundhog hole the whole week!

The trail-walkers in town appreciate Nick Murray for building and maintaining the puncheons along the Roosevelt Woodland Trail.
The Roosevelt Environmental Commission appreciates Steve Taylor for growing milkweed plants all winter for distribution this month.
Roosevelt residents appreciate Dave Curtis, Joe Trammell, John Ord, Ryan Feigenbaum, and Chris Bravo for building the new bulletin board next to the Post Office.

Larisa Bondy appreciates Nick Murray, Steve Taylor, Mary Tulloss, Eitan Grunwald and the entire Roosevelt Environmental Commission as well as the Memorial Fund in memory of Ron Filepp for making our Nature Trail safe and fun for the Kindergarteners and their walks.
Councilmember Stacey Bonna appreciates Mr. and Mrs. Ramirez for the honor of officiating at their wedding ceremony.

The Roosevelt Environmental Commission appreciates Kim Felong, Stacey Bonna, Eitan Grunwald, Mary Tulloss, Steve Taylor, Ann Kassahun, and Sharyn Walz for volunteering at the Fourth of July celebration.

Tell us who you appreciate! Send an email to sbonfonti@msn.com or call 448-1693
here to edit.